J.Johnstone Engineering Ltd - Fabrications
Here at J Johnstone Engineering we offer a variety of fabrication services which can be seen in more detail below:
Pallets
Steel pallets are the most durable and sturdy type of pallet you can use, they can be used across a wide range of sectors including agriculture, automotive, distribution, logistics, manufacturing and the food industry. Metal  pallets are ideal for moving and shipping heavy goods, We can make a wide range of stackable and space saving solutions.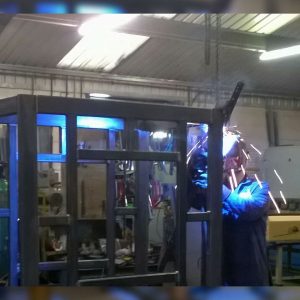 Contamination Control
One of the main benefits of using metal pallets is the fact that they are easy to keep clean and can be made contamination free. Any bacteria can be easily removed from the surface of the metal pallets making it widely used in the food industry.
Agricultural Machinery & Plant Machinery
Our highly qualified fitters have years of experience diagnosing and repairing machinery faults. If plant machinery Is needing a repair, a member of our team should fast and effectively have you back up and running in no time. We also do a multitude of attachment repairs and upgrades from blades and teeth to complete buckets and grain pushers as seen below.
Play parks
We have fabricated and installed play parks and climbing frames of all shapes and styles, that can be tailored to a specific age range or made to suit all ages. We offer a made to measure service but also a very creative and very visually effective statement. The safety of children is paramount and this is represented in our work, well thought-out designs and ideas to maximise fun but keep safety the main priority.