J.Johnstone Engineering Ltd - Fabrications
Here at J Johnstone Engineering we offer a variety of fabrication services which can be seen in more detail below:
Mild steel                                      Stainless steel
Sheet metal work                         Plate shearing
Flame cutting/ Burning              Plasma cutting
Welding:     Mig,   Tig,     Arc
Drilling      Punching
Projects that we have undertaken can be seen below
Pallets
Steel pallets are the most durable and sturdy type of pallet you can use, they can be used across a wide range of sectors including agriculture, automotive, distribution, logistics, manufacturing and the food industry. Metal pallets are ideal for moving and shipping heavy goods, We can make a wide range of stackable and space saving solutions. We offer this on a bespoke or batch production basis.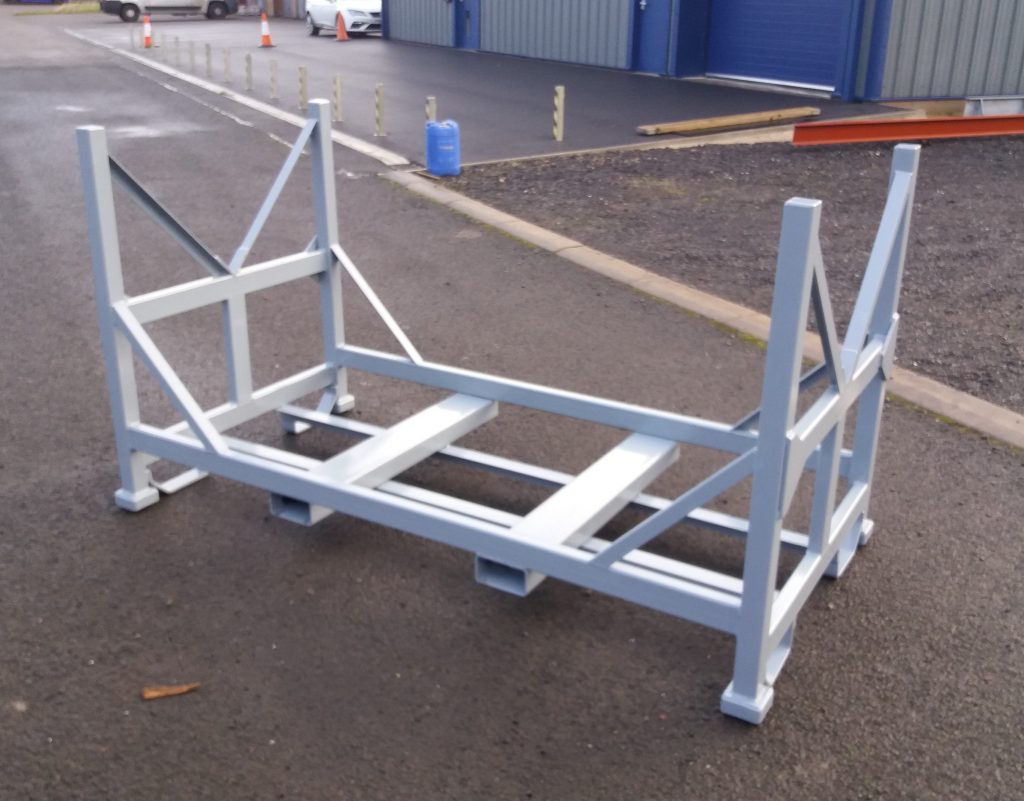 Staircases, fire exit platforms
Here at J Johnstone engineering we design all our fire escapes and staircase to comply with all building regs, they are then tailored to you and your need, we can make these look decorative and opelling or as basic as you like.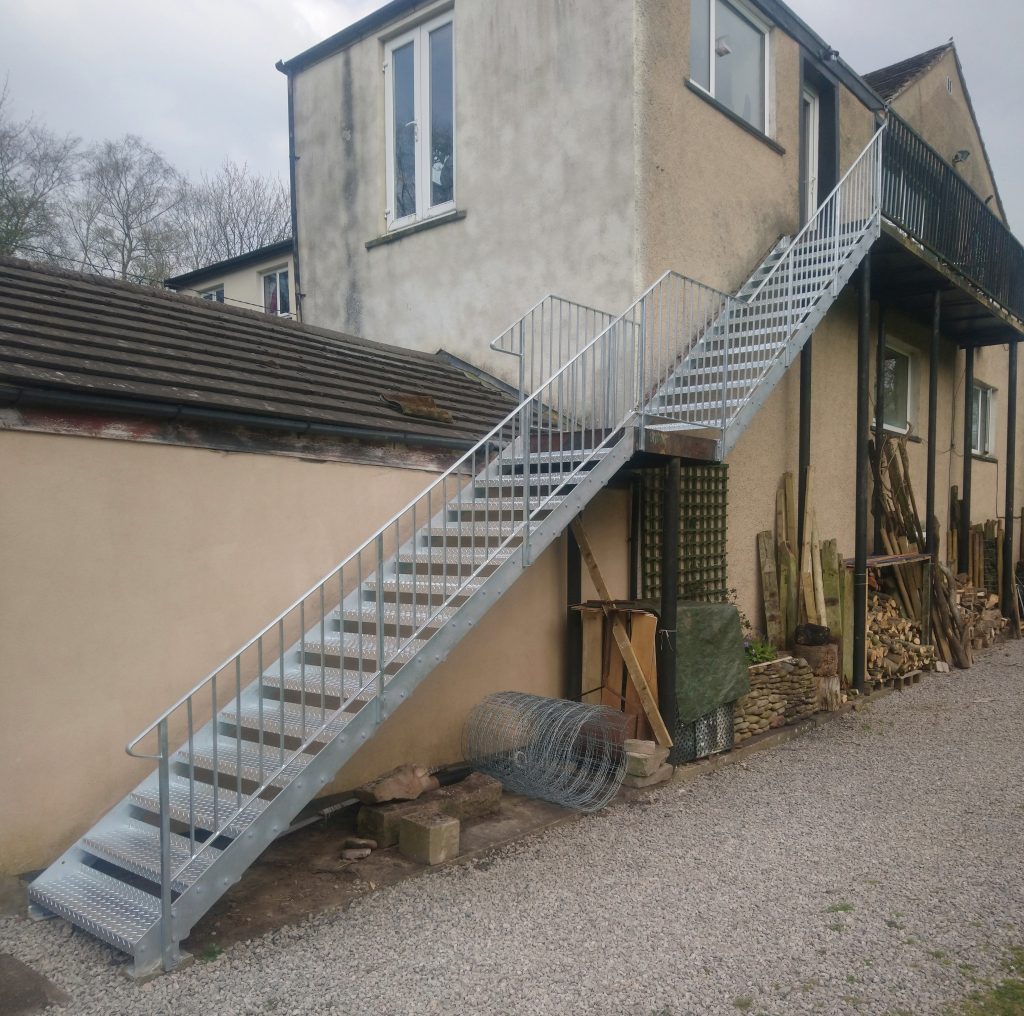 Agricultural machinery repair and attachments
If plant machinery Is needing a repair, a member of our team should fast and effectively have you back up and running in no time. We also do a multitude of attachments for your jcb or other agricultural machinery we have had lots of experience in this area from grain pusher blades and digger buckets to lifters for fork lift trucks all can be fully load tested if required … we also carry out full repairs on these items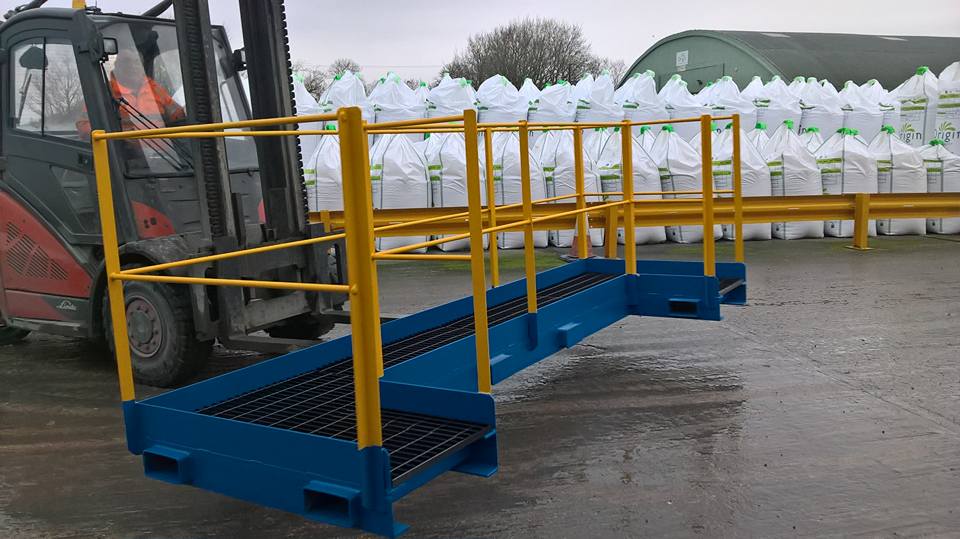 Gates, Railings, Handrails
All our hand made railings are fully welded and designed to fit openings bespoke to you they are thought out with great detail to give you the most desired effect, may that be traditional wrought iron work or a more contemporary feel. we offer a wide range of designs and work second to none
Security Fencing / security
Security is a big part of everyone's fabrication needs we offer products that are well thought out and up to the job of preventing thieves and trespassers to wonder into your site or home we have fitted security measures for larger sites and households for many year and some of these things can be seen below.
Security steel doors
Security gates
Security fencing
Pad lock cover boxes
Wall barbwire brackets
Sliding bolts
Fishing industry and Boat Repairs
We have under taken this sort of work for many years as Silloth has always been an active fishing port, we have worked on many different types of fishing boats and trawlers from cockle and shrimp to scallops and muscle boats no two vessels are the same and all offer different challenges we have made
Cooling systems
Cockles dredges
muscle dredges
Designed and fitted out full boat for a multitude of different types of fishing
keel cooling systems
shrimp boilers
Exhausts systems
Replaced full undersides of boats lifted out on to the key side
Sheet Metal Work
With more than 35 years' sheet metal fabrication experience J Johnstone Engineering are an established UK based company and manufacturer. We have a dedicated team waiting to assist you with all aspects of the manufacturing
Design
Development
Punching
Shearing
Folding
Press work
Rolling
Welding
Single and Bespoke Fabrications
Do you require complex bespoke engineering for your next project? Whether your engineering project is small or large, you can be confident that we can support you every step of the way. Here at J Johnstone Engineering we can provide a wide range of complex bespoke engineering services suitable to your need and With an extensive knowledge and years of experience in this field we offer products that are second to none.
Play parks
We have fabricated and installed play parks and climbing frames of all shapes and styles, that can be tailored to a specific age range or made to suit all ages. We offer a made to measure service but also a very creative and very visually effective statement. The safety of children is paramount and this is represented in our work, well thought-out designs and ideas to maximise fun but keep safety the main priority.